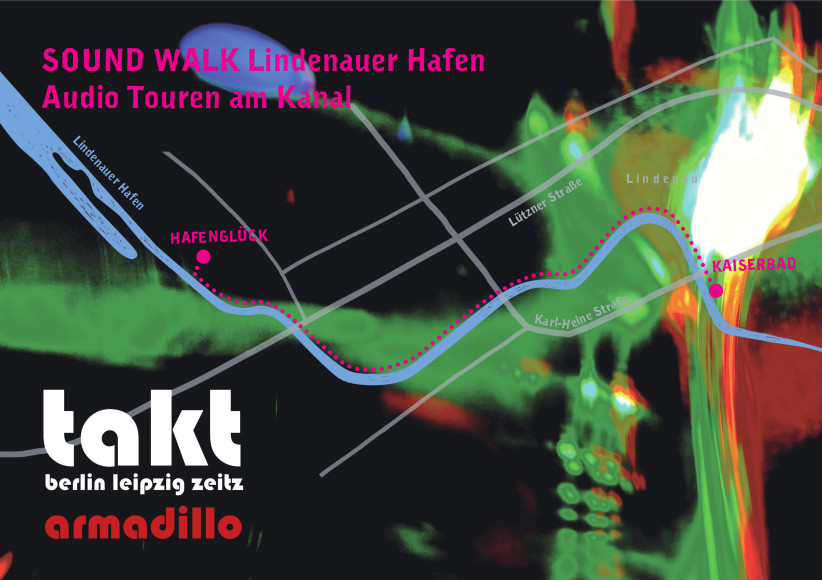 Soundwalk Lindenauer Hafen
curated by Antje Görner
2./3.7./9./16./17.10.2021 15 – 18h
Leipzig Karl-Heine-Kanal
Start and End:
Kaiserbad, Karl-Heine-Straße 93, 04229 Leipzig
Künstler*innen des ARMADILLO Hörgalerie-Programms von TAKT Berlin Leipzig ZEITZ gestalten einen Audiowalk und nehmen die Zuschauer per App und auch MP3 Player mit auf einen Rundweg- Spaziergang entlang des Karl-Heine-Kanals.
Für 30 Minuten können die Zuschauer*innen Geschichten hören, Musik, Lesungen, Improvisationen mit Stimme, Instrumenten und Geräuschen.
Ausgangs-Station und Endpunkt des Events ist das Kaiserbad Leipzig.


Artists from the ARMADILLO Hörgalerie program by TAKT Berlin Leipzig Zeitz create an audio walk and take the audience on a circular walk along the Karl-Heine-Kanal via App and also MP3 player. For 30 minutes, viewers can hear stories, music, readings, improvisations with voice, instruments and sounds. The starting point and end point of the event is the Kaiserbad in Leipzig.



Etkar-André-Str. 29, 04157 Leipzig